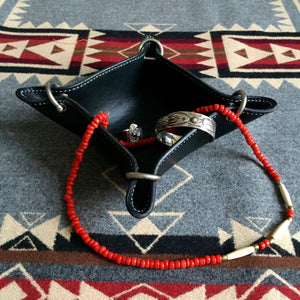 The Lone Wolf Leather Bowl is a nice decorative piece for your home. It can be used for storing your jewelry, your keys or other valuables. It is made of two layers of Tärnsjö's renown veg tanned leather hand sewn along the edges. The D-Rings attached to each corner are solid brass and you can choose either natural solid brass or matte nickel plated solid brass. The bowl can be ordered with hand stitching in either white or black thread. Lone Wolf Leather Bowl is made to order.
Don't hesitate to contact Lone Wolf Leather if you have any preferences or questions.
Dimensions = 19 cmx 19 cm corner to corner, 13 cm x 13 cm inner bowl.